13:29
'We have made it': Ketanji Brown Jackson honored to become first Black female justice
Updated

13:07
Ketanji Brown Jackson: 'This is the greatest honor of my life'
Updated

12:51
Biden: Jackson confirmation 'a moment of real change in American history'
Updated

12:43
'Today is a wonderful day': Kamala Harris celebrates Jackson confirmation
Updated

12:13
Ketanji Brown Jackson's confirmation vote came on a rain-drenched Capitol Hill on Thursday. A day later, the good news for those gathering at the White House for the outdoor formal celebration is that it's a beautiful April afternoon.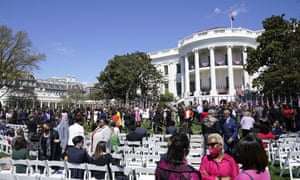 Reporters assigned to the White House pool today note that, as the media sets up to cover the event, there are already hundreds of people milling about, chatting and taking pictures of themselves on the south lawn with the flag-bedecked south portico behind them.
There are also a few dozen flags lined up in the driveway and four sections of folding white chairs about 8-12 rows deep arrayed in front of the presidential lectern, which looks to be positioned about 150 feet from the door to the south portico, Eli Stokols of the Los Angeles Times Washington bureau said.



The Marine band is seated on the east side of the lawn and playing. It's a pretty perfect April day out here, 58 degrees and sunny with an almost cloudless sky.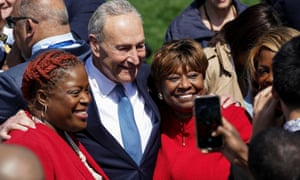 10:23
Oath Keepers and Proud Boys 'coordinated 6 January attack', House panel believes
The House select committee investigating January 6 appears to believe the Capitol attack included a coordinated assault perpetrated by the Oath Keepers and the Proud Boys militia groups that sought to physically stop the certification of Joe Biden's election victory.
The panel's working theory – which has not been previously reported though the justice department has indicted some militia group leaders – crystallized this week after obtaining evidence of the coordination in testimony and non-public video, according to two sources familiar with the matter.
Counsel on the select committee's "gold team" examining Donald Trump, the "red team" examining January 6 rally organizers, and the "purple team" examining the militia groups, are now expected to use the findings to inform the direction for the remainder of the investigation, the sources said.
The panel has amassed deep evidence about the connections between the connections between the Oath Keepers and the Proud Boys in recent weeks after it obtained hours of non-public footage of the leaders of the militia groups in Washington ahead of the Capitol attack, the sources said.
And the select committee has also now heard testimony from award-winning documentary film-maker Nick Quested on Wednesday about contacts between the militia group leaders, far-right political operatives and the Save America rally organizers, the sources said.
Read more here:
09:08
Ketanji Brown Jackson celebrates historic confirmation
.