GRAND FORKS – The grouse were out there somewhere on the prairie, dancing and booming up a storm like they always do in the spring. But try as he might, Noah Raitz and his crew on the ground couldn't find the birds to count them on their lek, as grouse mating grounds are called.
Some help from above quickly solved that conundrum.
"It took maybe a minute and a half of flying over us and telling us, 'Oh, it's about a mile this way,' " said Raitz, a UND senior Fish and Wildlife Biology major from Fergus Falls, Minnesota. "It really improved our ability to find (the grouse) and then try to get the counts."
Since 2019, UND's Biology Department has partnered with the North Dakota Game and Fish Department to count sharptails and prairie chickens on their mating grounds west of Grand Forks. The effort got an aerial boost this spring from Owyee Air Research, an Idaho-based company that specializes in manned aerial wildlife research using infrared and remote sensing technology.
Owyhee Air Research – or OAR, for short – is a sister company of Grand Sky Development Co., known for its 217-acre unmanned aerial systems business park at Grand Forks Air Force Base. OAR has extensive experience using thermal imaging to detect sage grouse in the western US and tapped into Grand Sky's ties with Grand Forks and UND to see if that couldn't be expanded to sharptails and prairie chickens, said Chelsea Merriman, wildlife biologist and director of data analytics and remote sensing for OAR.
"We wanted to come to North Dakota, where we already have such a strong partnership with Grand Sky, and see where we can lend our expertise and our services and how we can work with their natural resources and their natural resources agencies to provide them better data," Merriman said.
While a crew of UND students and others counted grouse on the ground during the mid-April survey, Merriman and a pilot flew about 1,100 feet above the prairie looking for birds using the aircraft's thermal imaging equipment.
In lay terms, this is high-tech stuff.
"We are utilizing the same sort of thermal imaging sensors that you see in a lot of military grade devices from the past few years," Merriman said. As an example, she says US Predator drones utilized an identical version of one of the sensors aboard the aircraft.
Mother Nature's ugly springtime turn only allowed them to fly four days – a test run at Glacial Ridge National Wildlife Refuge east of Crookston and then the survey west of Grand Forks – but results from the initial effort were encouraging, Merriman said.
"It's really awesome to be using such up-to-speed technology for natural resources," she said. "Being able to have this high level of technology to see a bird from over a mile away (has) been really helpful for, I think, boots on the ground to be able to find these birds and have a better idea of ​​how they' re using their habitat and their landscape."
That was readily apparent in the case of the lek they couldn't find on the ground, said Raitz, the UND student who was part of the ground crew. Strong cell service allowed Merriman to direct the ground crew toward leks by text messaging.
"The aerial aspect definitely has improved our ability to actually find the leks and get really good counts compared to just what you're able to get on the ground – without flushing (the birds), especially," Raitz said.
Thomas Swoyer, president of Grand Sky Development Co. and Owyhee Air Research, said he reached out last year to Susan Felege, UND associate professor of Wildlife Ecology and Management, to talk about possibilities for partnering.
Felege coordinates the springtime grouse survey with the North Dakota Game and Fish Department, and a partnership seemed like a logical progression, given Grand Sky's previous work with the university, Swoyer says.
"I work with the university in a lot of other ways; why not wildlife biology, as well?" he said.
Upon meeting, their heads "sort of jointly exploded," Swoyer recalls, at the opportunities for using manned aircraft to conduct research that small drones can't do very well because they're too close to the ground, while also gathering information ground counts can't provide.
"This was a new opportunity and a new ability that we were very happy to invest in with Susan to see what we could do," Swoyer said. "It's definitely an investment we wanted to make because we think we have some great capability that can be brought to bear for North Dakota."
The partnership with OAR has been a great learning experience for the students, Felege says.
"This is a really cool partnership," she said. "I know from a UND standpoint, Chelsea was great about giving all these undergrads a chance to look at the plane, talk about the sensors and understand what's happening up in the air while she's flying over them."
Despite the harsh weather, the UND students on the ground crew were troupers, Merriman says.
"They're fantastic," she said. "They've been a ton of fun to work with, and they definitely roll with the punches when you start to incorporate things as complicated as airplanes."
Biology meets thermal imaging
When conditions were right and the grouse were active, it was possible to distinguish prairie chickens from sharptails by the way each species acted. Male prairie chickens, for example, inflate air sacs on their necks to produce the distinct "woop-woop" booming sound for which they're known; sharptails, by comparison, are dancers.
Snow on the landscape actually helped detect the birds and their "heat spots" with thermal imaging, Merriman said. An "extensive background" in upland game birds helped her understand the biology of what she was seeing based on what the birds looked like and their heat signature, she says.
"So, using that sort of 'biology meets thermal imaging,' you can get an idea of ​​what the species is, and that's further validated by the way they're acting," Merriman said.
Because the grouse surveys were limited to a short window early in the morning, the OAR crew also flew deer counts over Grand Forks Air Force Base and flood mapping along the Red River, Swoyer said, building on some flood data they gathered in 2021 when the river was low.
The snowy landscape didn't lack for wildlife, Merriman said. A cow moose and a calf, coyotes and sandhill cranes were among the species spotted from the air, she said.
"I was surprised at the biodiversity out there, even on these wetlands," Merriman said. "It's very rare when you see so many exciting things."
From a wildlife agency perspective, being able to tap into the kind of thermal imaging capability OAR can definitely provide has potential for future survey work, said Jesse Kolar, upland game management supervisor for the North Dakota Game and Fish Department in Dickinson.
Kolar had planned to be in Grand Forks while OAR was flying, but blizzards prevented him from making the trip.
"We're always trying to keep tabs on the latest and greatest ways of getting things done, including if it's better than our own eyes, which is humbling," Kolar said. "But many times, these new sensors are better than what our eyes are, especially from the ground."
While Game and Fish has flown surveys with traditional camera gear using both manned aircraft and drones, Kolar says this was the first time to his knowledge that the department has partnered on a count using aerial infrared technology.
"The main limitation up until now has been the price of the cameras, and then also thinking to use the plane instead of trying to do it with a drone," Kolar said. "This was a good opportunity for all of us to learn."
It won't be the last time OAR works with UND's Biology Department on survey work, Swoyer, the Grand Sky and OAR president, said.
"We knew we had the team that could do this," he said. "We wish that we could have had five or six straight days of really hitting those leks over and over and over. Mother Nature was not interested in that, obviously."
Weather battles aside, the survey answered the question of whether aerial thermal imagery could detect sharptails and prairie chickens on leks that would be difficult to access or count from the ground, he said. In that context, it was worth flying a plane from Idaho to Grand Forks, Swoyer said.
"We want to do it some more so we can really get repeated detections and repeated data and information about the aircraft," he said. "But as far as, 'Could we do it?' That's what this was all about."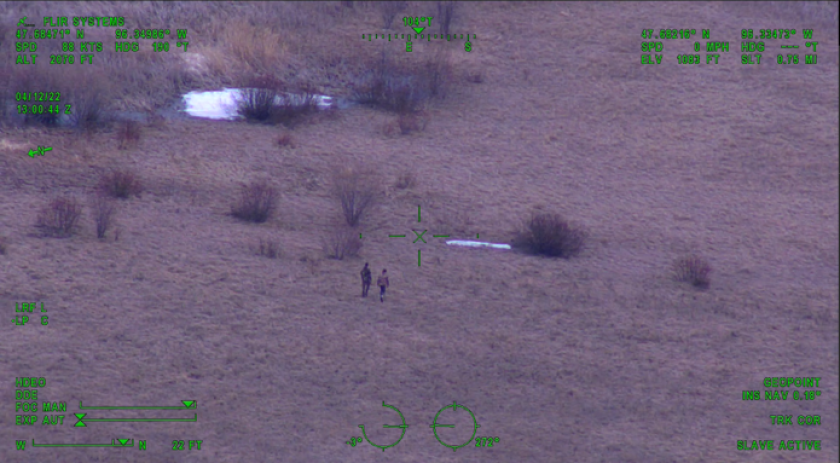 Eight UND students participated in the ground portion of the grouse survey:
Noah Raitz.
Cailey Isaacson.
Amalia Joergensen.
Seth Owens.
Mackenzie Jensen.
Jake Knutsen.
Sally Yannuzzi.
Taylor Linder.
Other attendees:
Susan Felege, UND associate professor of Wildlife Ecology and Management.
Chris Felege, UND teaching assistant professor, Biology.
Jim Job, North Dakota Game and Fish Department.
– Herald staff report
window.fbAsyncInit = function() { FB.init({
appId : '343492237148533',
xfbml : true, version : 'v2.9' }); };
(function(d, s, id){ var js, fjs = d.getElementsByTagName(s)[0]; if (d.getElementById(id)) {return;} js = d.createElement(s); js.id = id; js.src = "https://connect.facebook.net/en_US/sdk.js"; fjs.parentNode.insertBefore(js, fjs); }(document, 'script', 'facebook-jssdk'));