Talks are underway to make a purchase from South Korea, but Defense Minister Anita Anand refused to say whether it would go ahead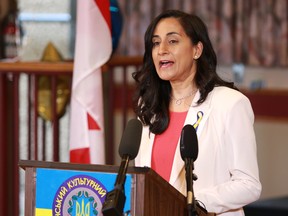 Content item
Canada is in discussions with arms companies to obtain further equipment for Ukraine but it's unclear whether a critical deal to purchase 100,000 rounds of artillery ammunition for that country will proceed.
Content item
Canadian officials have been talking with their counterparts in South Korea to acquire the 155-millimetre artillery ammunition, this newspaper reported in late May. Canada would then provide those 100,000 rounds of ammunition to Ukraine, which has been warning for the last month that it is running out of artillery shells.
The Liberal government has already provided Ukraine with Canadian Forces M777 artillery guns that can use the 155-mm ammunition.
Defense Minister Anita Anand said Thursday that Canada is talking to a number of defense firms about equipment for Ukraine. That nation is fighting off a Russian invasion that started Feb. 24.
But Anand declined to say whether the Canadian government would actually proceed with the South Korean deal, which could cost Canadian taxpayers hundreds of millions of dollars. "It would be imprudent for me to announce any transaction before it is finalized," she noted. "It is not my style."
Content item
Ukrainian government officials say a continued supply of artillery shells is critical to their war effort. "This is an artillery war now," Vadym Skibitsky, deputy head of Ukraine's military intelligence told the Guardian newspaper June 10. "And we are losing in terms of artillery."
Russia has large stocks of artillery and ammunition for those guns. Ukraine is firing between 5,000 and 6,000 artillery rounds a day at Russian positions, its military officials say.
But Ukrainian officials and defense analysts estimate Russia is firing an estimated 20,000 artillery rounds a day. Some Ukrainian government officials claim that figure is as high as 60,000 rounds but those numbers can't be confirmed.
Canadian taxpayers have already financed the donation of $626-million worth of weapons and other military equipment to Ukraine. That has included anti-tank systems, .50-caliber sniper rifles equipped with silencers, 60-millimetre mortars, grenade launchers, pistols, C6 and C9 machineguns, thermal-imaging binoculars, cameras, scopes and medical supplies.
Content item
In addition, drone cameras have also been sent.
Canada has also funded the purchase of 20,000 artillery rounds from the United States to donate to Ukraine's military. That deal cost $98 million.
Prime Minister Justin Trudeau announced June 30 that Canada is also providing Ukraine with 39 light-armoured vehicles. Those vehicles, being built by General Dynamics Land Systems-Canada, were originally for the Canadian Army. But instead, they will be diverted to Ukraine.
Those vehicles are expected to arrive in Europe in the coming weeks.
Anand also announced Thursday that the Canadian military will resume training Ukrainian soldiers. Up to 225 personnel, most from 3rd Battalion Princess Patricia's Canadian Light Infantry based out of Edmonton, Alberta, will be sent to the United Kingdom to instruct Ukrainian military recruits in that country. The deployment will initially be for about four months, according to Canadian defense officials. Training is expected to start Aug. 25 at a location in southeast England.
Anand could not say how many Ukrainian soldiers are expected to be trained.
Canada had previously trained over 33,000 Ukrainian military personnel in a program that was launched in 2015. That training was suspended in February just before the start of the Russian invasion of Ukraine.
NATO nations have been sending large amounts of weapons to Ukraine since the Feb. 24 invasion. Some NATO officials view the war as an opportunity to either force regime change in Russia or to seriously weaken that country militarily.