[
Anyone traveling on the island will pay the same fare, no matter which form of transit is used.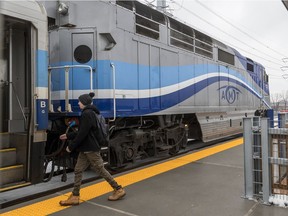 Content item
Coming this summer: an end to the confusion when paying for a commuter train fare in the Montreal region.
Content item
Anyone traveling on the island of Montreal as of July 1 will pay the same fare, no matter which form of transit they use. On the same date, most fares will rise by about two per cent in the region, except the fares for single rides, which will remain at $3.50 in Montreal, Laval and Longueuil.
The region's transportation authority outlined on Thursday the second phase of its plan to simplify fares in the region. The new fare structure is based on regions rather than on modes of transport, for the most part. Montrealers will pay the same rate to ride a train, metro, bus or eventually the Metropolitan Express Network, as long as they stay on the island. Similar all-mode fares are being introduced for people off the island.
Content item
That means big savings for residents of the West Island and regular users of Exo commuter trains, as a $94 monthly pass will allow them to use the bus, metro and commuter train on the island. The $94 rate is up from $90.50 for a monthly OPUS pass to ride on the STM, as all fares will be indexed to help offset the rising costs of transit operations. Currently, it costs anyone on the island of Montreal between $88.50 and $125 for a monthly Train 1-3 pass to ride the commuter trains, while it costs between $104 and $147 per month for the TRAM 1-3 passes to ride both the train and the metro.
Regular users of the metro and bus who ride the train occasionally will no longer have to sift through the dozens of fare possibilities or have to figure out to which zone they are traveling to pay for a single fare. If they are monthly STM OPUS holders, commuter train travel on Exo within the same zone will now be included in the same fare.
Content item
As for occasional transit riders, a $3.50 fare will buy a ride on any mode of transit on the island, two rides still cost $6.50 and a group of 10 rides will cost $31.50. Passes for 24 hours will cost $11, three-day passes will cost $21.25 and weekly passes will be $29.
Riders will pay more off-island.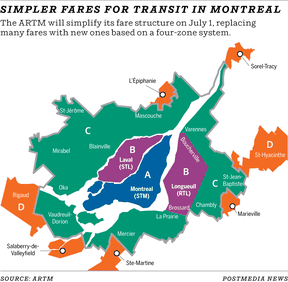 The new fare structure divides the region into four zones:
To Montreal
B: Laval, Longueuil, Brossard, Boucherville and St-Bruno-de-Montarville
C: North and south shores within the ARTM territory
D: Areas outside the ARTM
Users can buy passes just to ride within their zones, or to only ride on the bus. They can choose to ride all modes within the areas they need. For example, a Laval resident can buy an AB pass to ride the bus and metro to downtown Montreal. Anyone staying within Montreal would buy the Zone A pass.
Content item
For people traveling between Montreal and Laval/Longueuil, the TRAM 3 passes will be replaced with a Zone AB pass at $150 per month. Those residing or traveling between Montreal and the North and South Shore can buy the ABC pass for $184, while the ABCD pass, covering travel within the whole metropolitan region, will cost $255.
There are significant savings for occasional users of the STM system who live outside Montreal. Currently, Laval and Longueuil residents pay a $7 single fare to ride the bus in their cities and then use STM buses or the metro. That will be reduced to $5.25 for a single Zone AB fare.
Users of the train in Zone 7 now pay $9.75. That will be reduced to $6.50 for a single Zone ABC fare.
A single fare in the ABCD zone will be $9, half the $18.25 it now costs to ride a regional bus, a train and then use the STM.
Content item
While most users won't see significant increases, there is an exception for those who take RTL buses over the Samuel de Champlain Bridge to get between the South Shore and Montreal. They will have to pay $50 more a month when those buses are redirected to REM stations on the South Shore. However, the ARTM has introduced a transition pass that will be increased annually over five years to help dull the blunt of such a steep increase. The transition passes, which cover RTL buses and the REM only, start at $105 a month and will be increased every year by $10 until they are phased out in 2025.
Michel Lemay, the ARTM's executive director of marketing and public relations, said the goal of the fare harmonization is to make it easier to pay for and use all modes of transit within the region. However, OPUS passes will not be as user friendly as passes in other major cities, as they can't be recharged or paid online. Lemay said the ARTM is working on a plan to allow users to pay their fares online or on their phones, but it won't be in place in the short term. There is no timetable for the completion of that project.
Content item
Not everyone was happy with the announced changes, however. The Association pour le transport collective sur la Rive-Sud published a statement Thursday denouncing the rise for a single ride within Laval and Longueuil for users who want to take the metro to get to Montreal. Under the new structure, it will cost $5.25 for a single fare which includes bus and metro). Currently, if riders just want to use the metro, they can pay $3.50 for a single fare.
| Current fare | New fare |
| --- | --- |
| STM single trip: $3.50 | 1 trip, All Modes A*: $3.50 |
| STM 24-hour/747 bus: $10.00 | 24h, All Modes A: $11.00 |
| STM 10 trips: $30.00 | 10 trips, All Modes A*: $31.50 |
| STM weekly pass: $28.00 | Weekly, All Modes A: $29.00 |
| STM monthly pass: $90.50 | Monthly, All Modes A: $94.00 |
| STL/RTL single trip: $3.50 | 1 trip, Bus†: $3.50 |
| 1 trip, TRAM 3: $6.25 | 1 trip, All Modes AB: $5.25 |
| 6 trips, TRAM 3: $27.00 | 10 trips, All Modes AB: $45.00 |
| STL 8 trips: $24.50 | 10 trips, Bus†: $31.50 |
| RTL 6 trips: $19.00 | 10 trips, Bus†: $31.50 |
| STL monthly pass: $101.00 | Monthly, Bus†: $105.00 |
| RTL monthly pass: $104.00 | Monthly, Bus†: $105.00 |
| Monthly TRAIN Zone 3: $125.00 | Monthly TRAIN 3: $133.00 |
| Monthly TRAM Zone 3: $147.00 | Monthly All Modes AB: $150.00 |
All Modes A includes trips on buses, metro, commuter trains and the REM within Zone A.
*Does not include trips on the 747 bus)
†Allows bus-only trips on most buses within Zones A, B or C
jmagder@postmedia.com
ARTM to study pandemic's effects on Montreal's commuting habits

Will the transit revolution address other social crises?