By MINLU ZHANG and HENG WEILI in New York | China Daily Global | Updated: 2022-04-08 10:20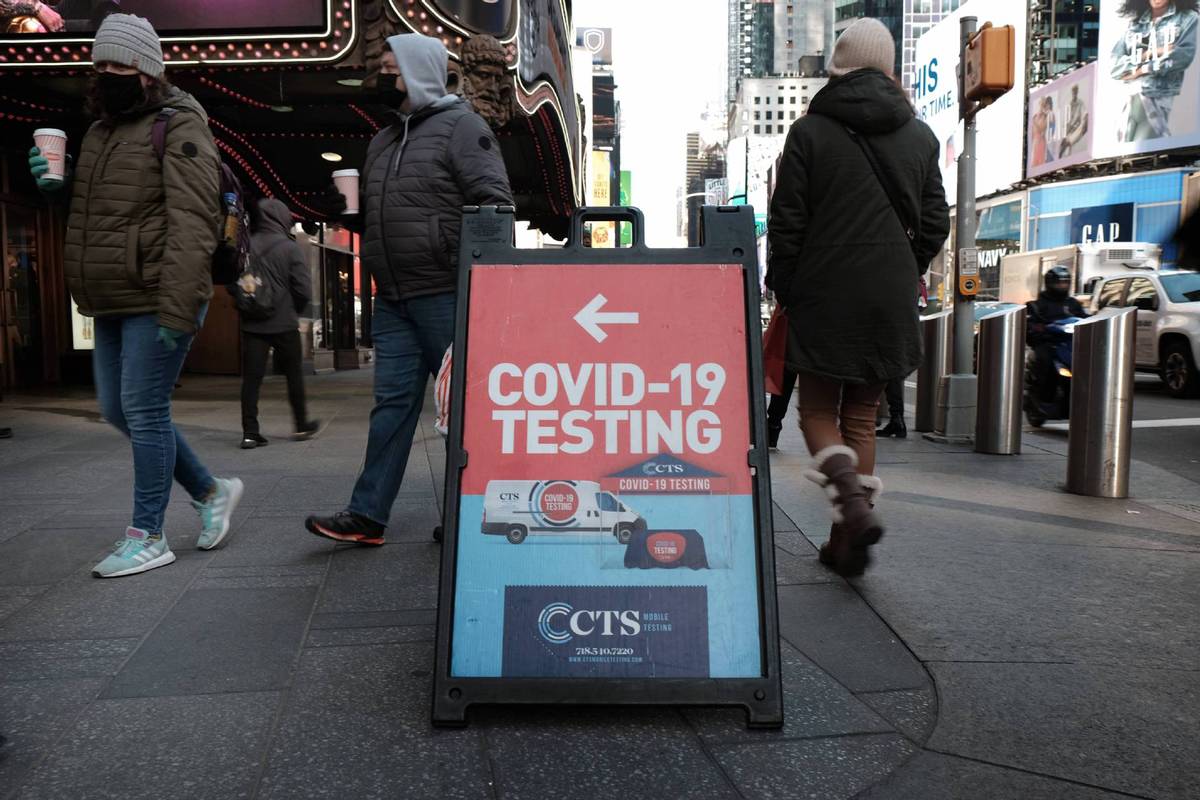 The occurrence of so-called long COVID remains a medical mystery even as it has sickened millions of people in the United States, and as two high-ranking government officials became the latest in the US capital to contract the coronavirus.
Attorney General Merrick Garland tested positive for the virus and will quarantine at home for five days, said the Justice Department on Wednesday.
Commerce Secretary Gina Raimondo also tested positive using an at-home antigen test.
The two officials were among more than a dozen attendees of the Gridiron Club dinner on Saturday who have tested positive for COVID-19. By Wednesday afternoon, the virus had spread further among administration officials.
In the US, the coronavirus has infected more than 80 million people and claimed more than 983,800 lives as of Thursday, according to data from Johns Hopkins University.
The BA.2 sub-lineage of the Omicron variant has accounted for nearly three-quarters of new COVID-19 infections in the US, according to data from the Centers for Disease Control and Prevention. It has become the dominant strain in the US.
Studies estimate that 10 to 30 percent of infected people may develop long-term symptoms even if they were not initially very sick.
"Long COVID is real, and there is still so much we don't know about it," said Health and Human Services Department Secretary Xavier Becerra at a White House briefing. "Millions of Americans may be struggling with lingering health effects, ranging from things that are easier to notice like trouble breathing or irregular heartbeats to less apparent but potentially serious conditions related to the brain or mental health."
A recent federal watchdog report estimated that about 7.7 million to 23 million people in the US are dealing with long COVID.
Despite intense investigation, little is known about what causes long COVID and there is no treatment for the condition as a result. Current treatments largely focus on helping patients cope with their symptoms as they try to rebalance daily routines.
Doctors estimated that 750,000 to 1.3 million or more people in the US are too sick with long COVID to return to their jobs. Long COVID disabilities and workplace absences could account for 15 percent of the US'10.6 million unfilled jobs, according to the recent analysis published by the Brookings Institution in January.
'Constantly exhausted'
Elvira Figueroa, a 69-year-old hairdresser in New York City who contracted the coronavirus in March 2020, said she had to retire from work after she started to experience long COVID.
"I had no energy, I was very weak. I was constantly exhausted. I took vitamin E, vitamin C, as my cardiologist said. I had to retire. My nails were getting black, my feet were bleeding … so many things were wrong ," Figueroa told China Daily.
Long COVID has cost a cumulative $386 billion in lost wages, savings and medical expenses in the US as of January, according to a white paper released by nonprofit research and advocacy group Solve Long Covid Initiative.
Also, more than 12.8 million children have tested positive for COVID-19 since the onset of the pandemic, according to the latest report by the American Academy of Pediatrics and the Children's Hospital Association.
Since the pandemic started, US experts have warned of a mental health crisis facing children, which is now playing out at schools in the form of increased childhood depression, anxiety, panic attacks, eating disorders, fights and thoughts of suicide at alarming levels, reported The Associated Press on Tuesday.
Xinhua agencies and contributed to this story.