Vice President Kamala Harris excoriated the Supreme Court's recent decision to end the federal right to abortion, telling a crowd at the Essence Festival of Culture in New Orleans on Saturday that the ruling will set back women's rights in the country.
"What essentially has happened is the statement has been made that the government has the right to come into your home and tell you as a woman and as a family what you should do with your life," Harris told an appreciative crowd of mostly Black women while being interviewed by Emmy Award-winning actress Keke Palmer.
Harris repeatedly used what has historically been the language of conservatives in saying the Supreme Court's decision now has the government telling people how to live their lives.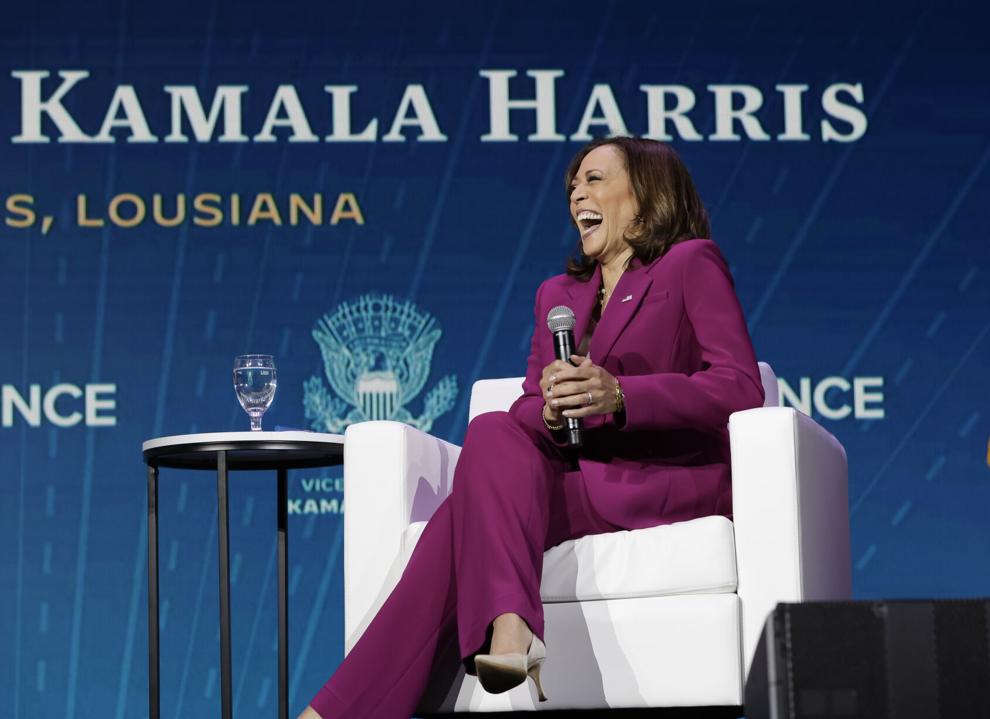 A woman, Harris said, has "to make one of the most intimate decisions that she should have a right to make without government interference. She should have a right to make with her pastor, or her priest or her rabbi or her family, but not by getting permission from the government."
Louisiana has banned most abortions, thanks to a 2006 state law triggered last month when the Supreme Court vacated its 1973 Roe v. Wade decision. In Dobbs v. Jackson Women's Health Organization, the court concluded June 24 there is no constitutional right to an abortion, leaving regulation to the individual states.
State law on hold
However, Judge Robin Giarrusso of the Orleans Parish Civil District Court has prevented the state law from taking effect for at least a couple of weeks, questioning its constitutionality. Giarrusso will hold a hearing July 8 on whether to continue to enforce her order. The state's three abortion clinics – in Shreveport, Baton Rouge and New Orleans – remain open in the meantime.
Harris was relaxed and smiling as she sat in an easy chair at the Ernest N. Morial Convention Center and answered Palmer's friendly questions for 30 minutes before a crowd of about 1,500. Palmer drew cheers when she noted that Harris is the first woman vice president.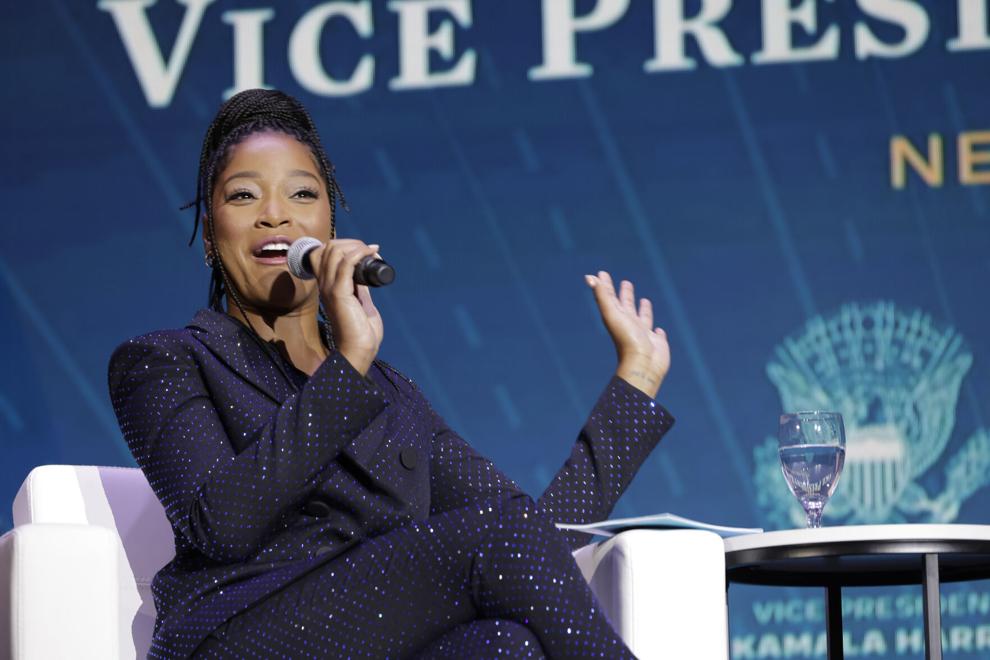 At an event with an emphasis on empowering women, Harris told the audience not to lose heart with the decision to overturn Roe.
"There is power in numbers, and there is power in knowing that the vast majority of us have so much more in common than what separates us," Harris said. "The people trying to attack our rights are trying to make people feel small and feel lonely and different because they want you to believe you don't have power and that you're out there by yourself. We're not going to let that happen."
Palmer asked Harris what has kept her going. Harris was the district attorney of San Francisco, the attorney general of California and finally a US senator from California when she was elected vice president in 2020 as Joe Biden's running mate.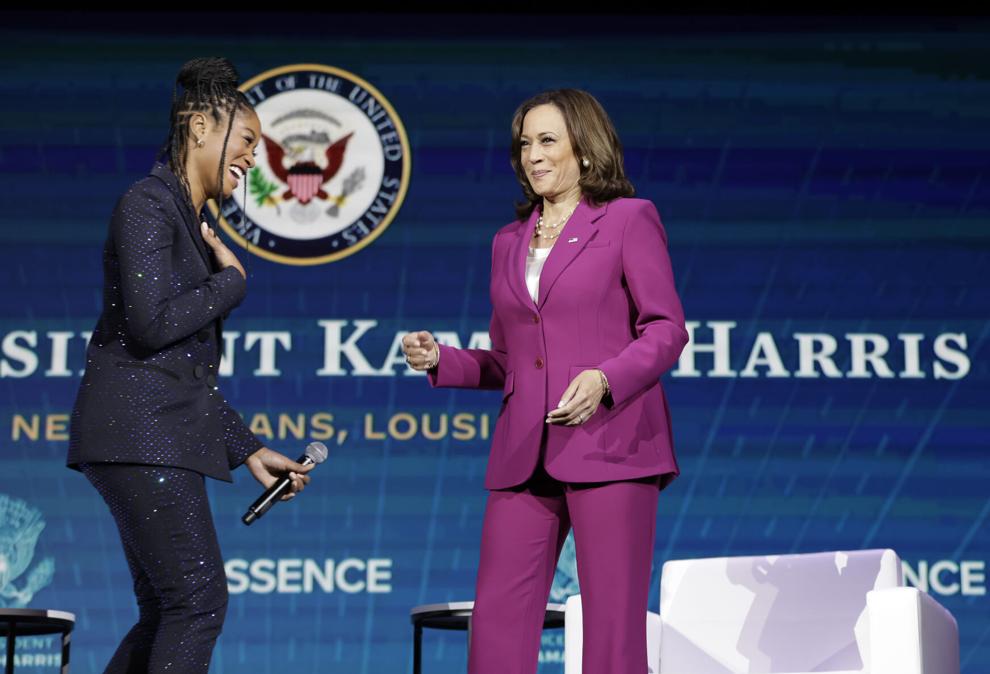 "Don't hear no," Harris said. "Don't hear, 'It can't be done.' Don't hear, 'Nobody like you has done this before.'
"I like to say I eat no for breakfast. Surround yourself with a community and people – it doesn't have to be a big group – who love you and will cheer you on and sometimes push you out the door to go and do. Because those people who love you and you trust enough, when you fall down, they'll be there to laugh with you because you fell, but to help pick you up and keep going."
Her previous visits
Harris is no stranger to New Orleans and other parts of Louisiana. In March, she visited Sunset, just north of Lafayette, to highlight a $30 million federal grant that will fund high-speed internet service in 11 rural Acadiana communities.
She also spoke at the last Essence in-person gathering, in 2019, and made two other visits that year to New Orleans to promote her campaign to become the first female president of the country.
Her husband, Douglas Emhoff, made a bit of history for New Orleans a year ago by making the first visit to the city by a male vice presidential spouse. He pitched a plastic ball to kids at the YMCA in Belle Chasse and handed out food baskets at the Broadmoor Community Church.
Back stage after Saturday's discussion, Harris greeted a group of local politicos, including former New Orleans Mayor Marc Morial, who is president of the National Urban League; form US Rep. Cedric Richmond, who recently stepped down as a senior White House adviser to play an outside strategic role for the national Democratic Party; Helena Moreno, president of the New Orleans City Council and co-chair of Harris' 2020 campaign in Louisiana; and Donna Brazile, a Kenner native and TV pundit who twice served as chair of the Democratic National Committee.