[
Watch this page throughout the day for updates on COVID-19 in Calgary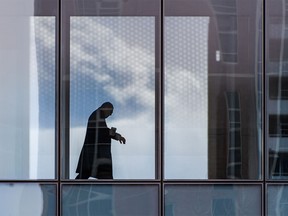 Article content
What's happening now
Article content
---
---
Alberta's wastewater data and positivity rates continue to see slight increase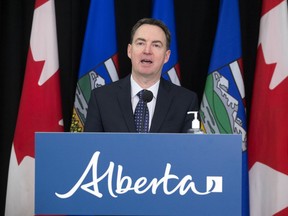 Test positivity rates and virus levels found in wastewater testing continue to increase in Alberta this week but the province's health minister said it "remains to be seen" how that will translate in terms of serious illness and hospital admissions.
Alberta's average test positivity rate from March 29 to April 4 was about 26.3 per cent, a slight increase from the 24.5 per cent reported the previous week, Health Minister Jason Copping said at Thursday's COVID-19 update. He added another leading indicator, wastewater testing data, shows there is more virus circulating in a number of areas.
"It's not a spike we saw in late December and early January and in some centres we're seeing the data fluctuate around the level that's in between the extremes of the past two months," said Copping. "It's a concern and we're monitoring it closely."
Article content
Read more.
---
Experts urge caution in reading rapid tests as variants drive sixth wave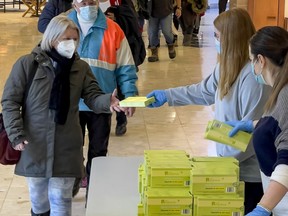 Rapid antigen tests have become Canada's primary tool to detect COVID-19 as mounting signs point toward a sixth wave, but experts warn that results should be read with caution as the spread of variants raises questions about diagnostic accuracy.
The head of Ontario's science advisory panel forecasted a COVID-19 "tidal wave" as wastewater monitoring suggests that the province is seeing between 100,000 and 120,000 new infections each day.
While rapid antigen tests were hard to come by during the variant's initial rise, supply has increased as Omicron's more contagious sibling, the BA.2 subvariant, seems to fuel another surge.
Article content
While rapid tests can help Canadians make safer decisions about how to navigate this rise in infections amid loosening public health measures, experts warn that they can also provide a false sense of security.
Dr. Christopher Labos, a Montreal cardiologist with a degree in epidemiology, said it takes more than one rapid test to rule out infection because of high rates of false negatives.
Read more.
---
Copping, Hinshaw to give COVID-19 update at 3:30 p.m.
Article content
During today's update, chief medical officer of health Dr. Deena Hinshaw spoke to fourth dose requirements being expanded, and so are requirements to use the oral COVID-19 treatment Paxlovid. She also said with the transmissibility of the BA.2 variant, Albertans can expect to see an increase in COVID-19 cases in the near future.
Here is a summary of today's press conference via a series of Tweets made by Hinshaw:
Article content
---
COVID-19 fourth doses expanded as Alberta approaches another virus wave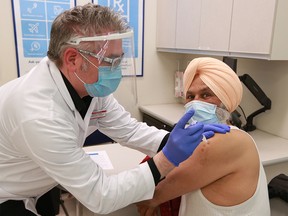 As new wastewater and case data suggest Alberta is heading into another wave of COVID-19 infections, the province is expanding access to fourth shots of vaccination against the virus.
Starting April 12, all Albertans age 70 and older will be able to get a fourth dose of vaccine if at least five months have passed since their previous shot.
The expanded eligibility also includes First Nations, Métis and Inuit people age 65 and older and all seniors in congregate care settings, regardless of age.
The news comes as the province reported a jump in virus hospitalizations and 30 deaths over the past week, as test positivity rates remain high.
Read more.
Article content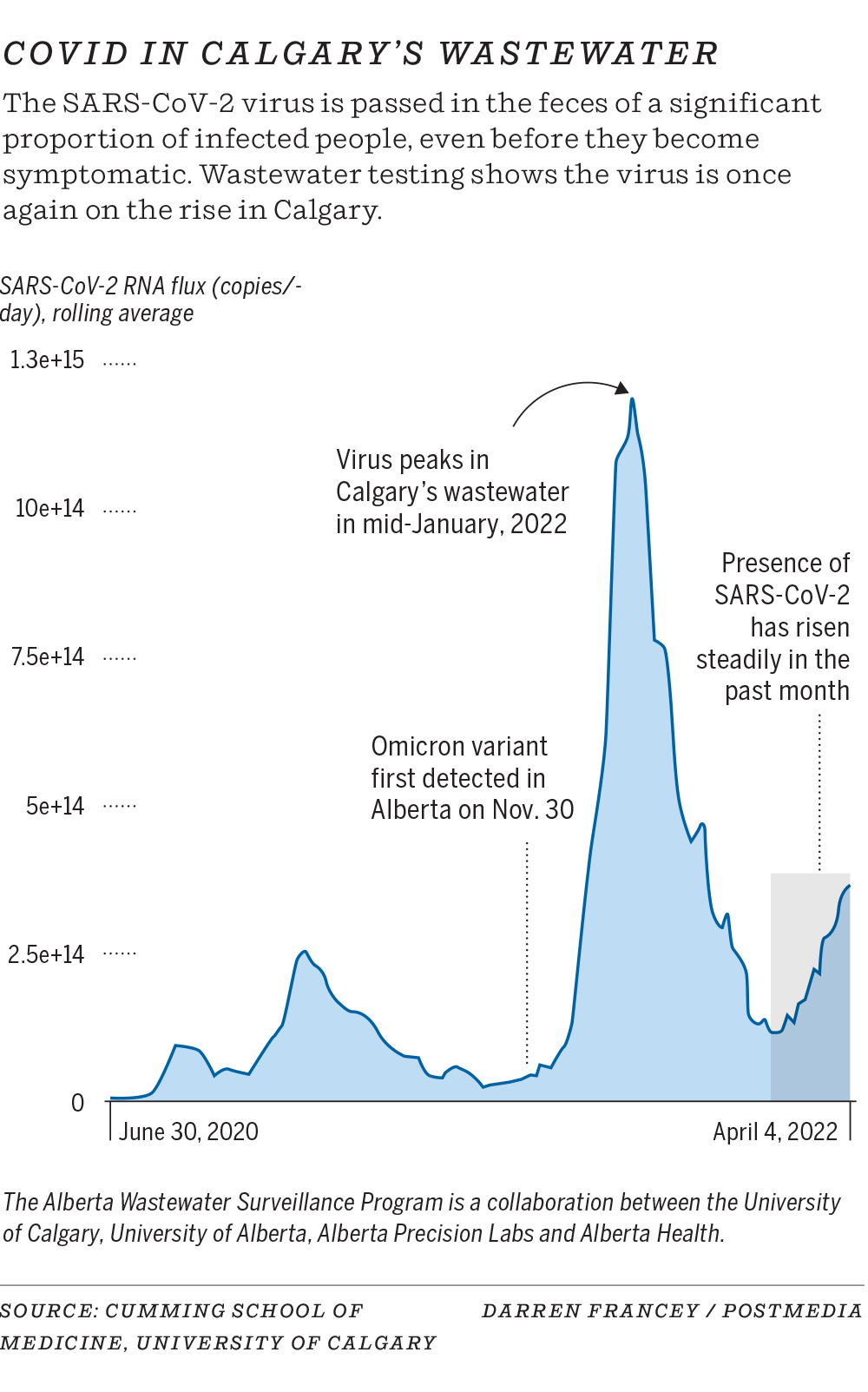 ---
Some Calgary Zoo animals receiving COVID-19 vaccinations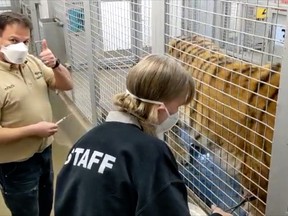 Some mammals living at the Calgary Zoo have reached the front of the line for their COVID-19 vaccinations.
The Wilder Institute/Calgary Zoo begin providing an animal-friendly COVID-19 vaccine to several animals earlier this week. The first animals scheduled to recieve their first dose include two of the zoo's western lowland gorillas, a snow leopard, two tigers, a Bactrian camel and several lemurs.
Read more.
---
U.S. House Speaker Pelosi tests positive for COVID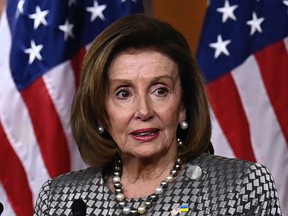 U.S. House of Representatives Speaker Nancy Pelosi has COVID-19 and is currently asymptomatic, her spokesman said on Thursday, after more than half a dozen other federal officials tested positive in recent days.
Article content
The 82-year-old Democratic leader tested positive after a negative test result earlier in the week, spokesman Drew Hammill said in a statement.
More than half a dozen senior officials, including members of Democratic President Joe Biden's Cabinet and at least seven lawmakers, have tested positive for COVID-19 in recent days, even as caseloads drop across the country.
Read more.
---
Ontario medical expert urges return to masks to avert COVID 'tidal wave'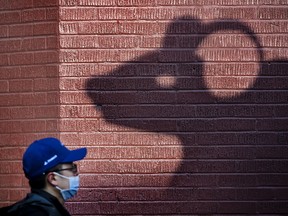 If Ontarians wear masks indoors for another few weeks a "tidal wave" of COVID-19 cases could quickly recede, a top scientific adviser said Thursday, as the health minister insisted a mandate was unnecessary.
Dr. Peter Juni of the province's COVID-19 science advisory table said wastewater monitoring suggests the province is seeing between 100,000 and 120,000 new cases of the virus each day, in part because so many people stopped wearing face coverings when the mandates lifted last month.
Article content
"We are creating a tidal wave again," Juni said.
---
Wednesday
Albertans rally to support public health-care system after Yiu's departure as AHS president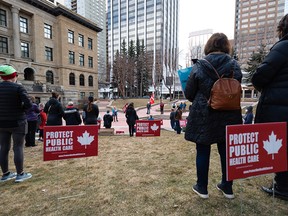 The removal of Alberta Health Services' president and CEO has sparked renewed concerns about the UCP government's plans to shift more services to private providers.
In Edmonton, about 75 people including public health care advocates, doctors, NDP MLAs and union leaders gathered at the steps of the legislature to show support for public health care Wednesday while protesters gathered at McDougall Centre in Calgary.
The rallies, organized by the group Protect our Province, came after AHS announced Monday Dr. Verna Yiu was out as president and CEO. Edmonton's rally saw one attendee with a sign declaring "we want Yiu back."
Article content
Health Sciences Association of Alberta (HSAA) president Mike Parker said at the demonstration the UCP appears "hell-bent" on privatizing health care.
Read more.
---
Wednesday
Alberta reports 5,549 new cases, 30 deaths over seven days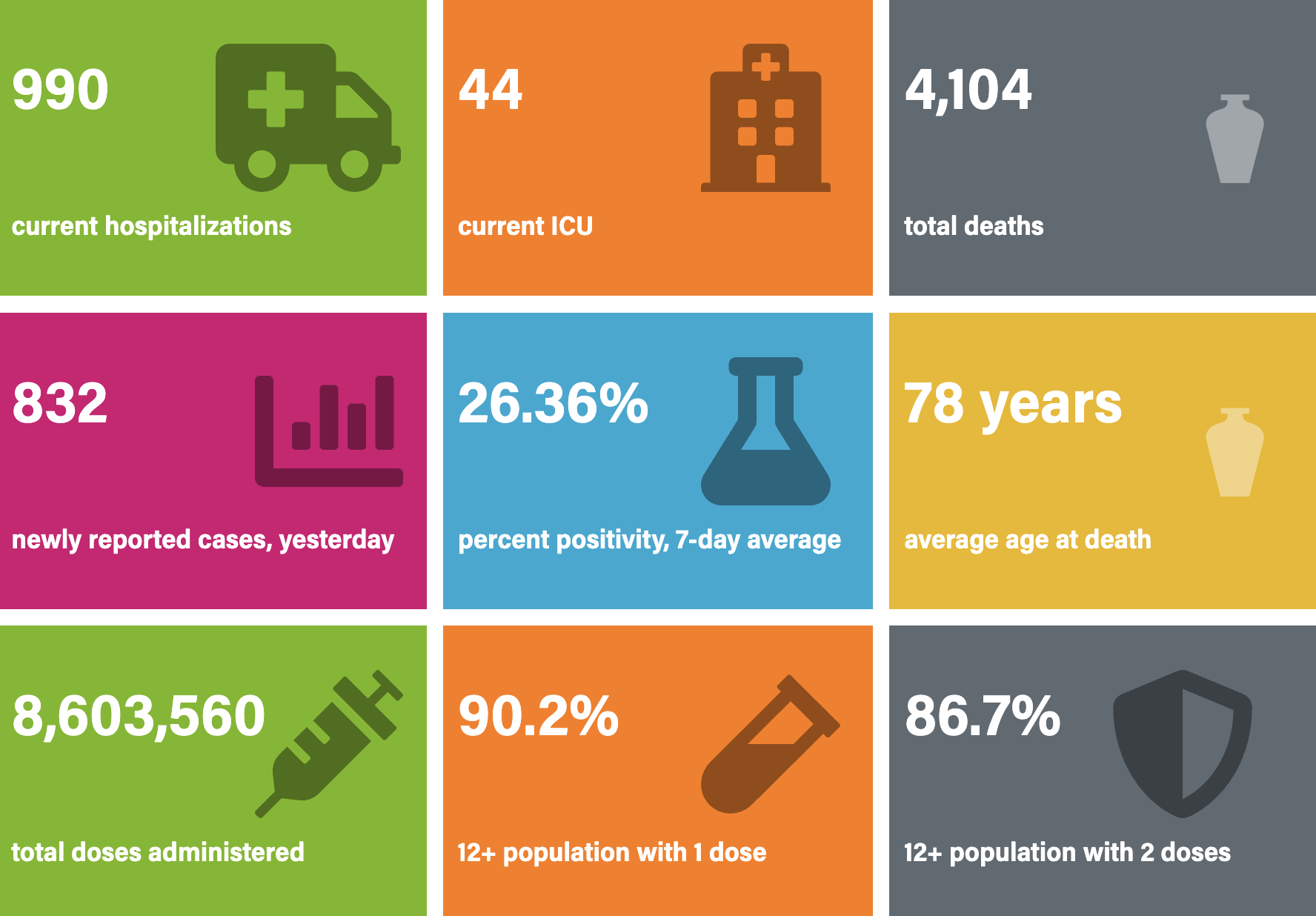 Here are COVID-19 numbers released today by Alberta Health, covering a seven-day period from March 29 to April 4:
The province is reporting 5,549 new COVID-19 cases over seven days, through 21,314 tests completed.
There are 990 people in hospital with COVID-19, an increase of 26 since March 30. There are 44 people in ICU, a decrease of three since March 30.
There were another 30 COVID-related deaths reported to Alberta Health Services, bringing the total to 4,104 since the start of the pandemic. There have been 789 deaths reported in Alberta since Jan. 1.
Alberta's two-dose vaccination rate for the population age 12 and over is 86.7 per cent.
Article content
---
Wednesday
Hospitalizations stall at just under 1,000 in Alberta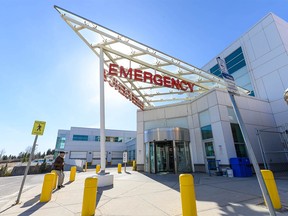 ---
Wednesday
'So many bodies piled up': Hong Kong funeral services overwhelmed by COVID victims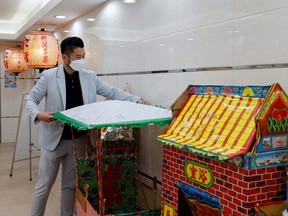 The number of traditional wooden coffins are in short supply in Hong Kong as authorities scramble to add mortuary space in the financial hub's battle on COVID-19, which is swamping funeral parlours.
"I have never seen so many bodies piled up together," said funeral director Lok Chung, 37, who has been working round the clock, with about 40 funerals organized in March, up from roughly 15 in an average month.
"I have never seen family members so upset, so disappointed, so helpless," said Chung, wearing a sober grey suit with a black polo T-shirt.
Since the fifth wave of coronavirus hit this year, Hong Kong has reported more than a million infections and more than 8,000 deaths.
Article content
Read more.
---
Wednesday
Calls to health line reveal desperation of Quebec care home owners as COVID hit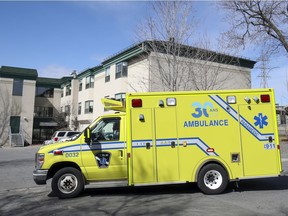 Newly released recordings of phone calls to a Quebec government-run health line in 2020 reveal how desperate the owners of a long-term care home were during the pandemic's first wave.
The pair of recordings from the owners of the Herron private care home, where 47 people died in spring 2020, were entered into evidence for the coroner's inquest that is investigating COVID-19 deaths in the province.
In the recordings published today by La Presse, a panicked Samantha Chowieri and her husband call twice to the non-urgent health line, telling a nurse they are seeking a mass testing of residents.
Read more.
---
Wednesday
Article content
Experts worry COVID messaging may hinder fourth-dose uptake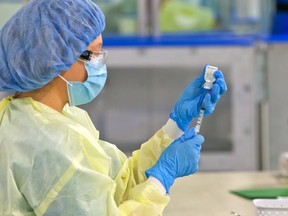 Some experts worry government messaging about the state of the COVID-19 pandemic may stymie uptake of fourth vaccine doses.
Eligibility for fourth doses is expanding in some provinces after the National Advisory Committee on Immunization recommended people 70 and over get a second booster.
Ontario is opening up fourth-dose appointments for residents 60 and older starting Thursday, while Quebec will do the same next week and several other provinces are making the shots available to older demographics.
Read more.
---
Wednesday
Quebec health director warns people will die if state of emergency immediately lifted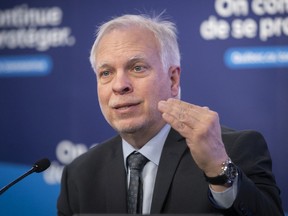 Ending Quebec's state of emergency on Thursday would be the equivalent of killing people, the province's interim-director of public health warned on Wednesday.
Article content
Dr. Luc Boileau made the observation while testifying before a legislative committee in favour of Bill 28, which would prolong certain emergency powers the government has enjoyed for the past two years until Dec. 31, 2022.
The government needs those powers to maintain the efficiency of the province's heath-care system, Boileau said.
Read more.
---
Wednesday
'COVID is not a cold': Germany reverses course on ending mandatory isolation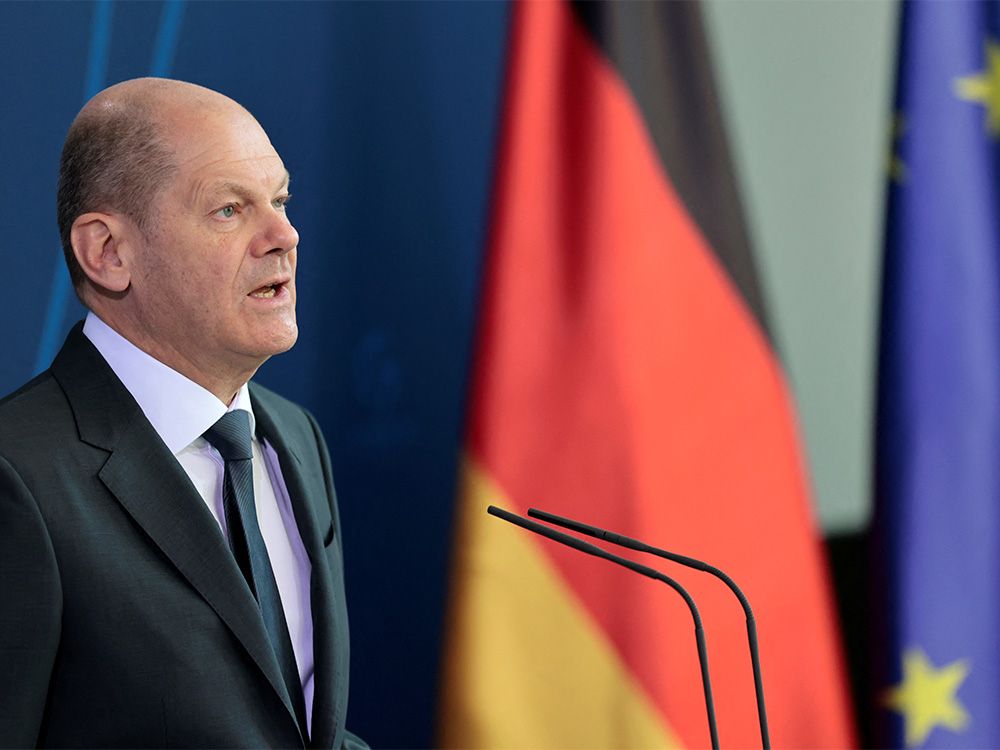 Germany will not end mandatory isolation for most people who catch COVID-19, the health minister said on Wednesday, reversing course after concerns were raised that lifting quarantine restrictions would suggest the pandemic was over.
"Coronavirus is not a cold. That is why there must continue to be isolation after an infection," Health Minister Karl Lauterbach said on Twitter, adding he had made a mistake by suggesting an end to mandatory quarantine.
Under the existing rules, people with COVID must isolate for at least seven days. Lauterbach suggested last week a shift to a voluntary five-day period of self-isolation with the recommendation of a COVID test at the end of that time.
Read more.